This is your chance to make a difference for Beloit kids. Vote for the candidates that want to make a real difference in the lives of our youngest citizens. Local elections matter and they can impact our lives far more than larger national elections. 
VOTE ON APRIL 6!
(THIS IS THE EASIEST & MOST IMPORTANT THING YOU CAN DO!)
Not many people  vote in spring elections or local elections in general.  This one is different.  The future of Beloit's children hangs in the balance and YOU can do something about it.   On Tuesday, April 6, Vote for Candidates that Support In-Person Learning.For State Superintendent, that is Deborah Kerr.
For the School Board of Beloit, vote for Christine Raleigh and write in Jason Jacobson.  *Update* Unfortunately,  Jason Jacobson withdrew his candidacy papers.  You can still write his name in.  You can also write in Mickey Mouse or Santa Claus.   Whatever you do, please do not use your second school district vote for one of the other candidates listed on the ballot if you ever want a chance of schools opening full time for in-person learning.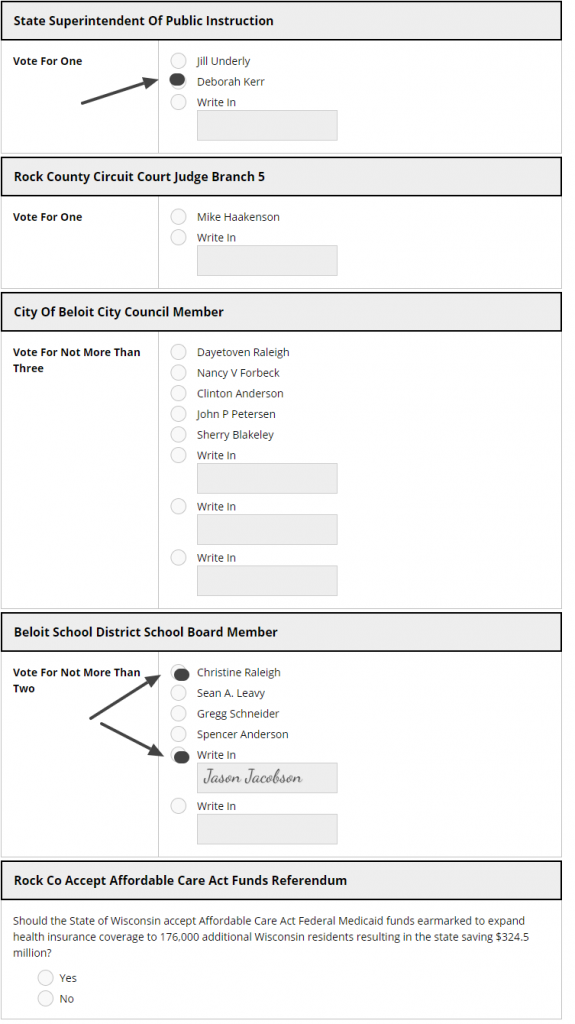 SIGN UP
2. Text: OPEN to 866-552-0238 or use this form.  We will never give away your information or spam you.  We are not trying to sell anything to you either.
This step is absolutely critical because our work doesn't end on April 6 and social media/email is not always an effective method to reach out to each other.  We have a tremendous amount of work to do but if we work together, we can easily accomplish our goals.  There is strength in numbers!
SHARE
3. Share this website (http://beloitstudentsmatter.com)  with anyone you know that lives in the City of Beloit that wants schools opened.  This includes parents, students, teachers that want to open, grandparents, custodians etc.  We recommend using messenger, email, or texting to share.
SOCIAL MEDIA
Please download and share the following graphics on social media!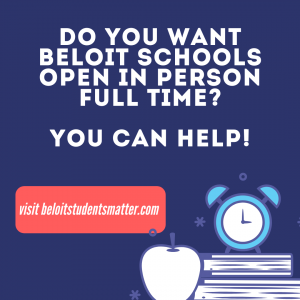 TEXT
Send the following text to everyone you know that lives in the City of Beloit:
Do you want Beloit schools open full time? Here's how to help:
On April 6 vote for Deborah Kerr for State Superintendent and vote for Christine Raleigh for School Board and write in Jason Jacobson.
Learn more: slkt.io/naEw
WRITE & SPEAK
4. Writing letters to the Beloit Daily News  and speaking at Board Meetings are two more ways to help.  Some ideas for topics are demanding the board return to in-person meetings (immediately!) or to demand the board present the science that supports the proposed future reopening of only two days per week.
MAKE A YARD SIGN
5. Make a sign!  This is a great way to get your kids involved if they want schools opened full time.
Follow these steps for making an effective Poster
Make the posters GIANT so that people driving by cannot miss them.
Make them FLUORESCENT so that the color attracts the attention of everyone.
Put them in your yard or at major intersections.
Keep the message BRIEF and to the point.
Bring them in at night and put them back out in the morning.  Moisture and troublemakers can easily ruin your signs.
At any typical intersection, you only have five seconds and five words to get your message across. You will want to make highly visible giant, fluorescent POSTERS.  Fluorescent posters are highly visible, effective, and harder for people to tear down.  Your goal with these poster boards is to make them very big, very noticeable, and very brief.
Items Needed: Giant (28″ X 22″) fluorescent orange poster boards; 2 large black permanent markers (do not buy water soluble markers); duct tape; and yard stakes (from Ace Hardware or Walmart)
Creating the Posters: Use giant (28″ X 22″) fluorescent orange poster board available at most office supply stores. The size and fluorescent color will attract the eye of everyone who drives by. This is your goal!  You can post it vertically or horizontally. Write your message in large 3-5-inch black letters. Your message could be "OPEN SCHOOLS NOW" or "I MISS SCHOOL – YOU CAN HELP"  or "HELP OPEN BELOIT SCHOOLS" or "VOTE FOR: DEBORAH KERR, CHRISTINE RALEIGH, & WRITE IN JASON JACOBSON On APRIL 6"   Make sure to pencil out your message first before you start using markers.    Be creative! Don't forget to include either the text number (TEXT OPEN TO to 866-552-0238) or this website url (beloitstudentsmatter.com).  Duct tape the yard stakes to the back of the sign.  You might need to reinforce with a bit of posterboard or cardboard if the sign begins to fall over.
About Us
We are a grassroots group of parents, students, and other concerned citizens.  We are not affiliated with any political group or campaign. We are not accepting donations.  If you would like to help get Beloit schools opened again full-time for in-person learning, please complete the steps listed above.